The Marvine Elementary 2019-2020 Yearbook is still available for preorder!!
Order yours for $15.00 a piece!
**All 5th graders will be receiving a free copy**
To order your copy of the yearbook, please message Miss Higbie on Dojo, or email me at khigbie@basdschools.org. You can also call Mr. Fontanez at 484-531-4114. Please state your child's name, grade, and how many copies you would like to purchase. Cash will be due upon pickup in the summer.
You may also order online at https://orders.christmascitystudio.com
School Code/Session Password is: MARVESYB20 (the last two are numbers – "twenty")
Please have all orders/preorders to Miss Higbie or Mr. Fontanez by this Friday, May 22nd. A summer pick-up day will be announced at a later time.
This will be a special way to remember this historical and unique school year!
---
---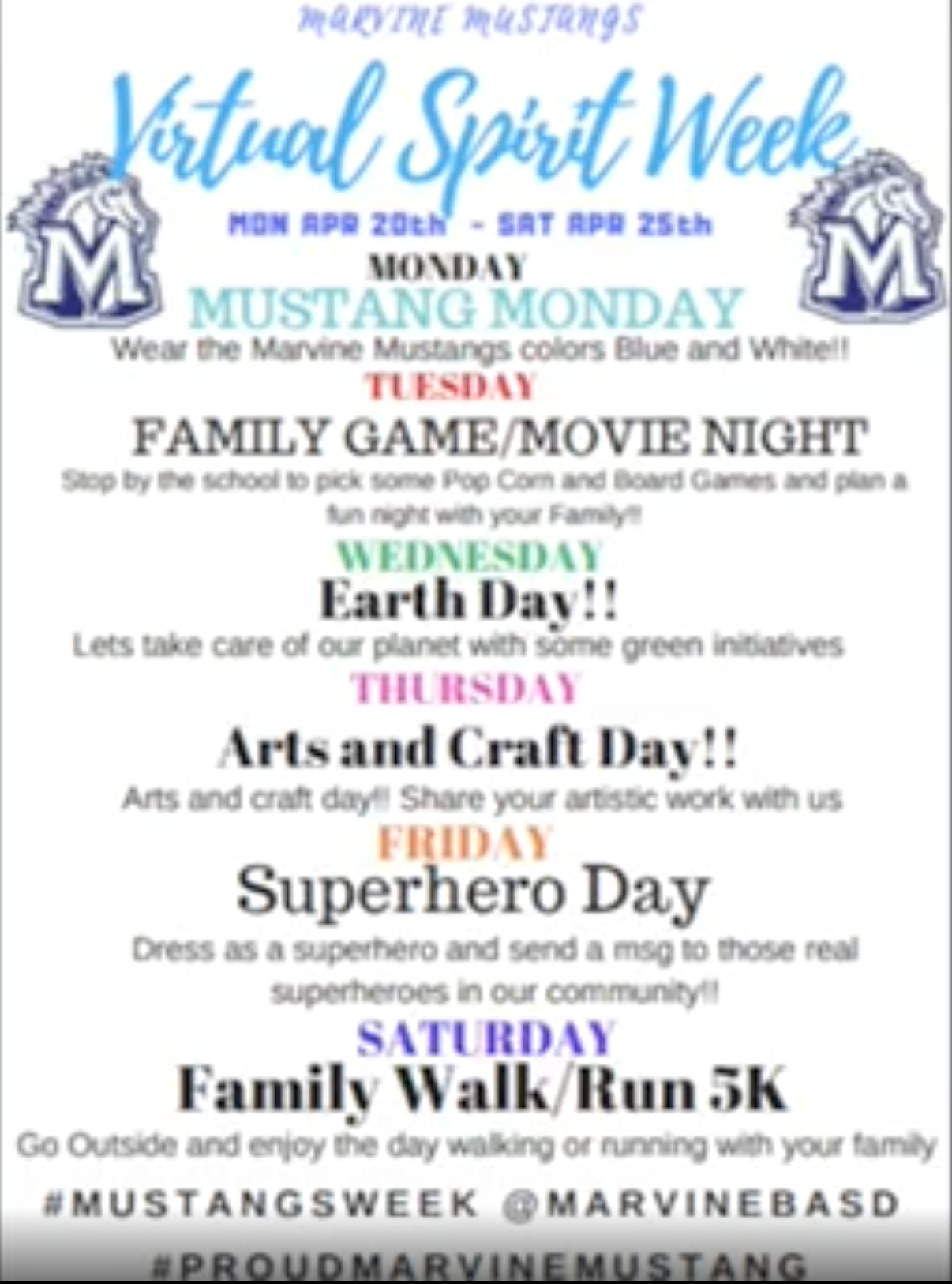 Marvin is so proud of all the Mustangs that have been working hard on their school work at home. He decided to give Marvine's Staff a special assignment to complete last week… Enjoy the Evolution of Dance by the Marvine Mustangs!! #MarvineMustangChallenge
---
Tier Five: Online Elementary Instruction Overview

Online elementary instruction will begin on March 30, 2020 and will continue throughout the period of school closure.
During online instruction, BASD elementary schools will follow a monthly core curriculum that will be issued for April, 2020 and May, 2020. The core curriculum will be grade-level specific. Instruction will be delivered using weekly assignments (available online, as well as in hard copy at BASD meal distribution sites for students without home internet access) that incorporate Wonders language arts lessons and related science and social studies concepts. Online instruction also includes math topics that can be instructed with First in Math, as well as EnVision Math for Grades 3-5. Other curricular resources may supplement and extend core instruction. Related Arts teachers will provide academic continuity to students by offering bi-weekly learning opportunities (not formal instruction, not graded) that review and/or enrich class topics taught prior to the school closure. Bethlehem Area School District will continue to provide a free and appropriate public education (FAPE) consistent with the need to protect the health and safety of students with disabilities and those individuals providing education, specially- designed instruction, and related services.
---
Hi Marvine Families,
I have a few messages to share today.
1. We have been giving lunches every day from 10am – 1pm and ithas been a great success. We have been averaging 125 lunches a day. Please continue to take advantage of this and send your children to get lunches each day.
2. We received another donation of some fresh produce that will be combined with some of the food from our food pantry. Some of the fresh produce includes lettuce, tomato, eggplant, cucumber, potatoes, cantaloupe and a few other things. We will be handing this out starting at 10:00am and it will be first come first serve until we run out. All you have to do is come to the front of the school and tell the ladies that you are here for a food bag. We will bring it out to you.
3. Tomorrow we will have 100 hot lunches available for adults in ourcommunity. It does NOT have to be one of the Marvine families. We want to be able to help college students, parents and senior citizens in our area. Pat's Pizza and Bistro on Broad Street is donating them and bringing them to us. We will begin handing them out starting at12:00pm and once again it will be first come first serve.
4. Continue checking Class Dojo on a regular basis. Teachers and staff have been posting activities, mini-lessons and videos to share with your child.
Once again we know this is a difficult time. Please lean on eachother as a community and stay safe.
-Mr. Fontanez
---
Hi Marvine Families,
The easiest way to access most of the online academic resources for our students is through the Clever portal. Students use their login and password to access the resources. The direct address to the Clever portal is
If you need your child's username and password, please reach out to your child's teacher.
If you don't have the internet access, please don't worry. We will have weekly activity packets available with our lunches starting tomorrow.
-Mr. Fontanez
---
‪Come by and get your lunches! Mr. Fontanez is out there in his hat! ‬

Posted by Marvine Elementary School on Tuesday, March 17, 2020
---
Thank you to all the amazing guest readers who shared stories with our students on Read Across America Day!
---