WE MISS YOU, HUSKIES!
Click on the heart to upload your heARTshine ARTwork!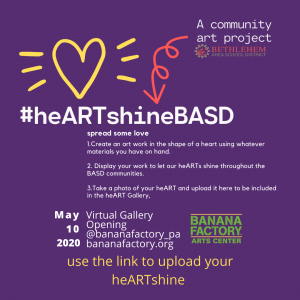 Friday, April 3 WAs E-LEARNING DAY!
THURSDAY, APRIL 2 WAS BOOK DAY!
Wednesday, April 1 WAS Music Day!
(Please post videos on the Facebook page at https://www.facebook.com/millerheightspto/)
Tuesday, March 31 Was GET UP AND GO DAY!
Monday, March 30 WAS HUSKY PRIDE DAY!
Tier Five: Online Elementary Instruction Overview

Online elementary instruction will begin on March 30, 2020 and will continue throughout the period of school closure.
During online instruction, BASD elementary schools will follow a monthly core curriculum that will be issued for April, 2020 and May, 2020. The core curriculum will be grade-level specific. Instruction will be delivered using weekly assignments (available online, as well as in hard copy at BASD meal distribution sites for students without home internet access) that incorporate Wonders language arts lessons and related science and social studies concepts. Online instruction also includes math topics that can be instructed with First in Math, as well as EnVision Math for Grades 3-5. Other curricular resources may supplement and extend core instruction. Related Arts teachers will provide academic continuity to students by offering bi-weekly learning opportunities (not formal instruction, not graded) that review and/or enrich class topics taught prior to the school closure. Bethlehem Area School District will continue to provide a free and appropriate public education (FAPE) consistent with the need to protect the health and safety of students with disabilities and those individuals providing education, specially- designed instruction, and related services.
---
We are growing!
The Perno Family graciously gifted a hydroponic garden to Miller Heights, and our plants are blooming! So far, we have arugula, basil, bibb lettuce, chard, and marigolds. We are still waiting for the lavender. Stay tuned……

IGNITING A PASSION FOR LEARNING