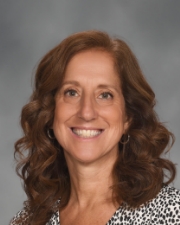 Lisa Young
lyoung@basdschools.org
Dear Miller Heights Students and Families,
It is with great excitement that I write this letter of introduction to you as the new Principal of Miller Heights Elementary School. I am honored to have the opportunity to lead a school with a reputation of academic success, outstanding students, an extremely dedicated staff, and a supportive school community. I feel fortunate to be part of this school and I am looking forward to meeting the students and families.
I have been dedicated to the field of education for more than twenty-five years. I have worked with students in the Bethlehem Area School district ranging in age from Kindergarten through 5th grade in a variety of roles. Most recently, I have served as the lead teacher and first grade teacher at Governor Wolf Elementary School. I am thrilled to bring my skills as an educational leader to Miller Heights Elementary School and to work with you as a partner in education to ensure your child's success.
On a personal note, I was born and raised in Bethlehem, and I am a graduate of Freedom High School. I attended Temple University for my undergraduate work, received my Master's Degree from Lehigh University and recently completed my Educational Leadership Certification at Moravian College. My husband is also a Bethlehem native and is currently a math teacher at Freedom High School. We have three children, who in recent years graduated from Freedom. We are proud to be part of the Bethlehem Area School District and we believe in the work of the teachers, leaders and community, as it values high standards and provides rich learning experiences.
I view education as a life-long learning process and I expect that I will continue to learn about Miller Heights this year and in the years to come. I am excited to use my teaching expertise, my openness to listen, and my child-centered approach to support this school. I look forward to working with you as a team to help each student at Miller Heights meet their goals and have a successful school year.
Sincerely,
Lisa Young