Marking Period 4 starts on Monday, April 12, so please keep on top of your work and finish strong!
Parent-Technology-Workshop-flyer-2E

Parent-Technology-Workshop-flyer-2S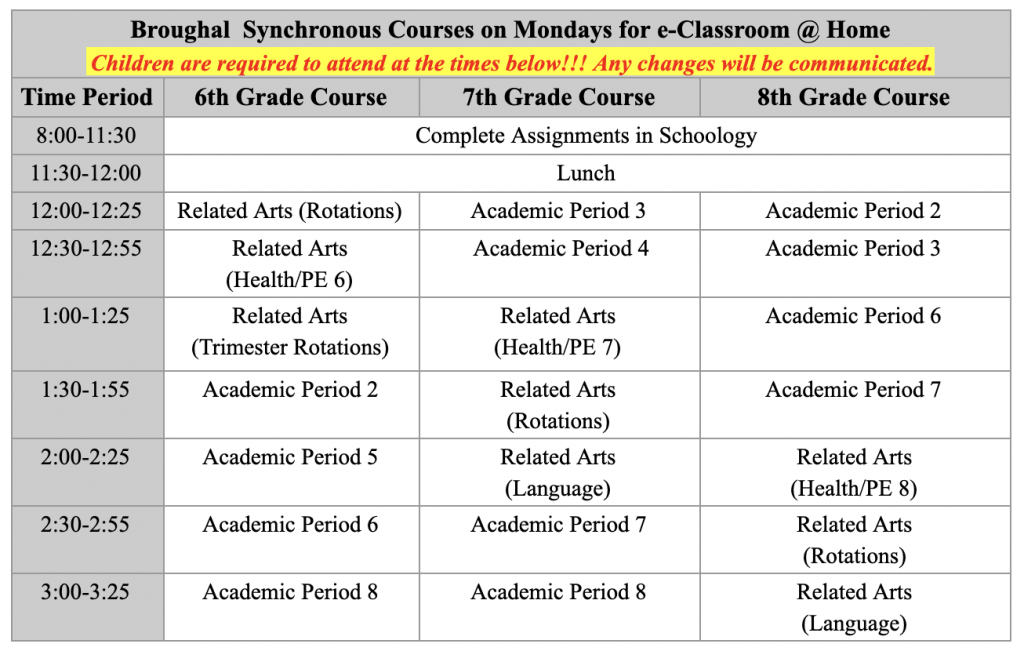 On April 12, 2021, the Bethlehem Area School District was notified of two positive cases of coronavirus (COVID-19) at Broughal Middle School. These individuals were last in school on April 7 and April 9, 2021.
Please access the full letter here.
     On April 9, 2021, the Bethlehem Area School District was notified of one positive case of coronavirus (COVID-19) at Broughal Middle School. This individual was last in school on April 6, 2021.
Please access the full letter here.
     On April 7, 2021, the Bethlehem Area School District was notified of one positive case of coronavirus (COVID-19) at Broughal Middle School. This individual was last in school on April 6, 2021.
Please access the full letter here.
Free Meals Are Available on Mondays.
---
Be prepared IF there is a short term closure. Here is what to expect.
Esté preparado por si acaso cieramos la escuela temporal. Vea el video.
---
Click here for information about New Student Registration
Please click on this link – 
2020-2021 BMS Start of School FAQ – 
for important information about the opening of schools for hybrid and e-Classroom students. The FAQ document will be updated as needed so be sure to check it frequently.
Best,
Mr. Amato
Haga clic en este enlace – Preguntas frecuentes sobre las escuelas intermedias de Broughal– para obtener información importante sobre la apertura de escuelas para estudiantes Híbridos (Hybrid) y Aula Electronica (e-Classroom). El documento de preguntas frecuentes se actualizará según sea necesario, así que asegúrese de consultarlo con frecuencia.
---
Need WI-FI?
It is critical for students to have internet access at home since we have instituted hybrid and e-learning options this semester. Please fill out this request form if you need help getting free internet access at home.
---
What can students safely do while they are home?
Read books on your Chromebook.
Go to Colonial IU 20 Digital Library to check books out using your student ID and password.
Keep up with math using IXL.
Read Scholastic magazines online.
Watch CNN 10.
Reach out to neighbors who might need help.
Parents or students needing IT Help, complete this form:  https://forms.gle/ZJE6SJNaX6RSSd927 Once submitted, this form will create a Service Desk ticket and a BASD Information Services Department team member will contact you via email (the email will come from "ISD Service Desk").
If you left your Chromebook at Broughal, send an e-mail to Mrs. Bothwell (dbothwell@basdschools.org) and we will make a plan to get it to you.
HOME OF THE TEAM WHO WON THE AWARD FOR BEST EDUCATIONAL VIDEO!
Check it out in the link below, and check out our competitors' videos as well! This was a tough competition and we are so proud of Mrs. Carr and her students!
What's So Cool About Manufacturing?
Highlights from High School Musical Jr.!!!

Thank you to all of the staff and students who put their hearts out on the stage, and thank you to everyone who came to celebrate Broughal's talent with us!

Hang in there!
Cold, gray days make daily life seem even more difficult than it is. Set goals and chip away at them. There is definitely still time to make this a productive school year! The end of the first semester is Thursday, January 23, 2020. Students and their families can log into the Home Access Center and check grades and assignments. If there are any missing assignments, either make them up at home or the public library or make arrangements with teachers. This is the time of year when eighth graders are meeting with high school counselors and we want every student putting their best foot forward.
Always set aside time to read a book or a magazine. According to expertrain.com, when you read, your brain "lives" the experiences you read about and the language center in your brain increases. Your attention span grows and you become more empathetic. Wow! Find something to read at home, the public library, or visit Broughal's library as soon as we return to school.

Rockets Need Launchpads
Mornings can be busy, especially as the weather turn colder and there are more warm clothes to put on. One way families can help is to have a launchpad for students to place their backpacks, Chromebooks (8th graders only), and coats, shoes or boots that will be put on to head to school. Preparing the night before makes the morning rush less stressful for everyone. Eighth grade families may want to plug Chromebooks in near their launchpads so they are charged and ready to go for the next school day.
"By failing to prepare, you are preparing to fail."
~ Benjamin Franklin
Thank you Louis Boria!
We will proudly wear our hats in the #HatNotHate Campaign!
What's Happening at Broughal?
Please view the Broughal eNews for upcoming events. You may bookmark the link so that you can easily continue to check the Broughal eNews for updated information.
BASD Empower program is underway!
For more information on how we will be using Chromebooks to empower our students' learning, please view BASD Empower.
Get your day off to a great start with a delicious hot breakfast!
Breakfast will be served starting at 7:45 a.m. in the cafeteria.
Embrace Opportunities
As the school year progresses, we encourage all students to embrace opportunities to obtain school supplies, join activities, clubs and sports, and make the best of this school year!
Always…
We are grateful for everyone who makes it possible for our students to come to school every day, on time, ready to learn. We are also grateful for all of the cooperation that makes events like What's So Cool About Manufacturing and The Little Mermaid such amazing opportunities for our students to develop and share their talents!
Thank you…
…students and families for making daily attendance a priority since you know the habit of attendance will help students do well in the classroom and in future jobs!
…teachers who make the classroom exciting so students will not want to miss out on learning.
…support staff and community volunteers who provide the extra attention our students need.
Always we want to take time to thank our community partners for all they do to support Broughal families throughout the course of the school year. Just Born Inc., Lehigh University, St. Luke's, and the United Way – working with you strengthens us immeasurably and we are truly grateful for your support.
Our focus continues to be on improving literacy and student achievement. This year we have restructured our English Language Arts program so that students have one class period devoted to a combination of reading and writing, and a discovery period where we can target the needs of each individual student. Students take assessments like Scholastic Reading and Math Inventories, Classroom Diagnostic Tools (CDT), Keystone Exams, WIDA, and Pennsylvania System School Assessment (PSSA) to identify areas of strength and weakness. Teachers are continually reviewing this data and using it to strengthen areas that need attention as we seek to challenge, inspire, and motivate Broughal students to maximize their potential. Parents are encouraged to contact their children's teachers or guidance counselors to review performance data and help bolster their students' achievement. Contact information for all staff members is available in our Staff Directory located under the School tab above.
Rick Amato, Principal
Nancy Zoudeh, Assistant Principal