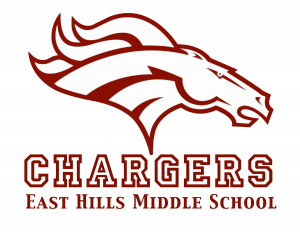 Clubs and Activities are offered year round at East Hills Middle School. If you don't see a club, but have an interest, share your idea with a staff member. Many activities have been created on the interest of students.
Allison's Secret Garden – The garden club teaches students about all aspects of gardening (seed choice, planting/growing seasons, pollinators, etc.) while maintaing the school's garden areas (courtyard garden & cafeteria garden). The club meets every Thursday and during Day 4 Activity periods.
Banana Factory – B Smart – The B-Smart activity is held off campus at the Banana Factory located on 3rd Street in Bethlehem. The ten-week program generally runs on Tuesday and Thursday from 4:00-6:00PM. There are generally two sessions: Fall and Spring. While at the Banana Factory students are given the opportunity to participate in classes such as Drawing and Painting, Mosaics, Jewelry, Fabric Art, Ceramics, and Wheel Throwing. All classes are taught by Juried Professional Artists, many of whom are renowned in the medium. There is no fee for this program! Space is extremely limited and students must commit to the entire 10 week program. Transportation is provided to and from the Banana Factory on BASD school buses. Students must be picked up at East Hills at the conclusion of each session.
EHMS – MSU – The East Hills Multicultural Student Union is a NEW initiative created to educate, honor and celebrate the various students of EHMS. The inaugural group will plan activities and learning opportunities throughout the school year designed to honor the diversity of abilities, races & ethnicities, languages, gender and talents of our students, staff and families. (*Note – Students will be working with Counselor, Andrea Schwartz, on various EHMS No Place for Hate Projects.)
Charger Pride After School Program – East Hills offers a Fall and Spring session of after school programs. These programs are offered during the week from 3:05 – 4:15 PM. Programs include Arts and Crafts, Board Games, Game Power, Sewing Club, Spanish/Hispanic Culture Club, Volleyball, etc. Programs vary from session to session depending on teacher's availability.
Charger Times – This club provides information and entertainment for the East Hills community through an online and printed newspaper. Students with an interest in authentic writing/artwork/photography experiences are invited to share their work for publication.
Guitar Ensemble – Students practice/learn guitar during two early morning and one after school weekly rehearsal. Directors are flexible and will work with student schedules that may conflict with other school ensembles and activities. Performance opportunities and activities include: Christkindlmarkt, Winter Concert, Cabaret Hosts, Spring Concert, others as scheduled.
Mathcounts – The Mathcounts competition series is a nationally recognized competition program for students in grades 6, 7 and 8 that challenges exceptionally talented mathletes to solve difficult math problems under a time constraint in a competitive setting. The club meets after school. Competitions take place in the Spring semester.
Power Vocabulary Olympics – The club engages English Language Learners in building capacity in word recognition and use. THE PVO is a fun and interactive method to empower students though genial competition while celebrating literacy skill success. It also promotes teamwork and collaboration while developing self-efficacy. Students meet during class time and after school on selected days from 3:05 – 4:15 PM.
Reading Olympics – This program encourages students to increase the quality and quantity of books they read for enjoyment. Reading Olympics is based upon the belief that good reading habits form the foundation for a productive and successful life. In addition to helping students develop a habit of daily reading for pleasure, it provides students with the opportunity to have interactive discussions with their peers on the content of books. Meetings are held during activity period as well as once a week after school starting in January where the team hold Skype practice sessions with other Bethlehem middle schools teams. In the Spring, the area teams come together for a competition at Easton High School to answer questions about the books.
Science Fun Night – This club organizes an annual event featuring various aspects of science to encourage students to enjoy and have fun learning through hands on learning activities and experiments. This event takes place every Spring.
Seventh & Eighth Grade Chorus – The 7th/8th Grade Chorus provides performance opportunities and musicianship growth and development opportunities through exploration of the choral arts. Rehearsals take place every Monday morning from 7:30 – 8:15 AM and during Day 4 Activity period. Performances include a winter concert, cabaret show, spring concert and others as scheduled.
Sixth Grade Chorus –  The 6th Grade Chorus teaches and build vocal skills through rehearsals and performances throughout the school year. Rehearsals take place two mornings a week from 7:30 – 8:15 AM, one afternoon 3:05 – 4:15 PM and during Day 4 Activity days. Performances include a winter concert, cabaret show, spring concert and others as scheduled.
Snowriders – The Snowriders club is open the 6th, 7th & 8th grade students who want to experience the exhilaration of skiing and snowboarding right here at one of the top ski resorts in the region….Blue Mountain. Five trips take place during January/February.
Sound Crew – Students will learn the ins and outs of sound production management through various opportunities during and after school. The director is very flexible and willing to work with student schedules that may conflict with other school ensembles and activities. Production opportunities and activities include: school assemblies and activities, winter concert, cabaret show, spring concert and others as scheduled.
Student Government – Our East Hills Student Government is a very active organization that provides activities that benefit our school as well as the Bethlehem community. we are very proud of the many activities we sponsor such as Mini Thon, our annual Turkey Drive and Spirit Week activities, just to name a few. Student Government elections are held in early September in homeroom.
Tech Trotters – Students will learn and utilize technical skills during during Day 4 Activity period and Tuesday afternoons (late bus transportation provided). We are flexible with busy schedules. You will learn and produce items for your school in the areas of interest including: teaching mini-lessons, assisting other users, equipment assistance, word processing, desktop publishing, surveying and data management & media production. (*Note – This is not a coding or hardware service club.)
Theater Company– The EHMS theater company provides a musical experience for students in grades 6-8. This year's show will be Shrek the Musical, Jr. Audition will take place at the beginning of school and rehearsals will be held Monday-Friday from 3-5:00 PM. The play performances take place in February.
Yearbook – This club documents activities throughout the year and compiles/designs an annual yearbook for all students to purchase at the end of the year. This group meets on Day 4 Activity period in the library.