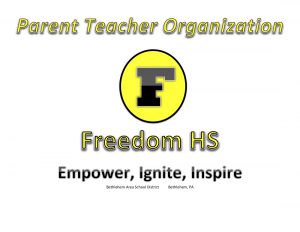 You can help us by:
Direct us with ways you think we could help within the FHS community.
Join us in membership by filling out this membership form or sending an email to freedomhspto@gmail.com with the word "subscribe".
Attend a PTO meeting when you can. We'd love to see you.
Suggest ideas for ways you think parents could get directly involved at FHS.
FHS PTO Meetings
2019-20 School Year
September 10, 2019         Meet the Superintendent, School Administration
October 22, 2019              Meet the Board President
November 12, 2019          BASD Empower, Trauma Informed Schools
January 21, 2020              Sports and Co-curriculars
March 10, 2020                 High School Transition
May 5, 2020                      General, Elections, Teacher Appreciation
All meetings will be held in the library and begin at 7 pm. Meetings are subject to change.
| PTO Executive Board | | |
| --- | --- | --- |
| President | Wendy Simpson | Email |
| Vice President | Nikki Testa | Email |
| Treasurer | Jason Testa | Email |
| Secretary | Desiray Bristol | Email |
| Membership | Quanesha Rodriquez | Email |
| Member at Large | Kathleen Sweeney | Email |
| PAC Rep | Marie Brown | Email |
| PAC Rep | Pam Marakovits | Email |
| PAC Rep | Wendy Simpson | Email |
| PAC Rep (Alternate) | Jen Woolley | Email |
Freedom PTO has NO membership fee. Instead, the FHS PTO has joined the GIANT A+ Rewards Program. All money raised will go towards a variety of school needs. Registering your card will not affect your current rewards (gas points, etc.)
• Go to https://giantfoodstores.com/school-rewards/
• Once you are registered and signed in click on "Log in and get started"
• Select "Change schools"
• Select Freedom by entering our School ID # 23392 (you may select up to 2 schools)
• Click "Save and Finish" (allow a couple days for this to appear)
11/12/19 Meeting Minutes   Treasurer's Report
10/22/19 Meeting Minutes   Treasurer's Report
9/10/19 Meeting Minutes    Treasurer's Report
5/7/19 Meeting Minutes      Treasurer's Report
1/22/19 Meeting Minutes    Treasurer's Report
10/23/18 Meeting Minutes   Treasurer's Report
9/11/18 Meeting Minutes   Treasurer's Report/Annual Budget
backpack pals