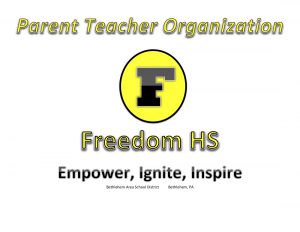 You can help us by:
Direct us with ways you think we could help within the FHS community.
Attend a PTO meeting when you can. We'd love to see you.
Suggest ideas for ways you think parents could get directly involved at FHS.
FHS PTO Meetings
Tuesday, 
September 15, 2020
 – Discussion with the Principal – Mr. Michael W. LaPorta Jr.
Tuesday,
October 13, 2020
 – Meet Dr. Roy – BASD Superintendent
Tuesday, 
November 10, 2020
 – Meet Mr. Michael Faccinetto – President of BASD School Board
Tuesday 
January 19, 2021
– Meeting Cancelled
Tuesday 
March 9, 2021
 – Meet the FHS Athletic Director, discuss FHS Extracurriculars – Mr. Nate Stannard
Tuesday 
April 13, 2021
–  Middle School Transition to HS
Tuesday 
May 11, 2021
 – Election of PTO Officers
As of now, all meetings will be at 7:30pm Virtually.  All links for meetings will be sent via Naviance email the day of the meeting.
| PTO Executive Board | | |
| --- | --- | --- |
| President | Wendy Simpson | Email |
| Vice President | Nikki Testa | Email |
| Treasurer | Jason Testa | Email |
| Secretary | Kathleen Sweeney | Email |
| Member at Large | Carmela Swenor | Email |
| PAC Rep | Marie Brown | Email |
| PAC Rep | Pam Marakovits | Email |
| PAC Rep | Wendy Simpson | Email |
| PAC Rep (Alternate) | Jen Woolley | Email |
3/9/21 Meeting Minutes  Treasurer's Report
11/10/20 Meeting Minutes  Treasurer's Report
10/13/20 Meeting Minutes  Treasurer's Report 
3/12/20 Meeting Minutes   Treasurer's Report
11/12/19 Meeting Minutes   Treasurer's Report
10/22/19 Meeting Minutes   Treasurer's Report
9/10/19 Meeting Minutes    Treasurer's Report
5/7/19 Meeting Minutes      Treasurer's Report
1/22/19 Meeting Minutes    Treasurer's Report
10/23/18 Meeting Minutes   Treasurer's Report
9/11/18 Meeting Minutes   Treasurer's Report/Annual Budget
backpack pals