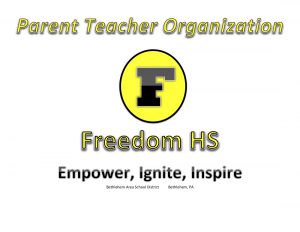 You can help us by:
Direct us with ways you think we could help within the FHS community.
Attend a PTO meeting when you can. We'd love to see you.
Suggest ideas for ways you think parents could get directly involved at FHS.
FHS PTO Meetings
Tuesday, September 14th, 2021 Meet the FHS admin, mental health workers, and a rep from guidance

Tuesday, October 12th, 2021 Dr. Roy

Tuesday, November 16th, 2021
Mr. Faccinetto; Keystone update; Grad requirement discussion
Tuesday, January 18th, 2022
Athletics + Activities
Tuesday, March 15th, 2022
At Lynfield – Topic driven by families *Snow date – 3/22
Tuesday, April 12th, 2022
Middle to high school transition/High school to graduate transition
Tuesday, May 10th, 2022
Teacher Appreciation discussion; PTO elections
As of now, all meetings will be at 7:30pm Virtually.  All links for meetings will be sent via Naviance email the day of the meeting.
| PTO Executive Board | | |
| --- | --- | --- |
| President | Wendy Simpson | Email |
| Vice President | Nikki Testa | Email |
| Treasurer | Jason Testa | Email |
| Secretary | Kathleen Sweeney | Email |
| Member at Large | Carmela Swenor | Email |
| PAC Rep | Lori Walker | Email |
| PAC Rep | Jessica Hancz | Email |
| PAC Rep | Wendy Simpson | Email |
| PAC Rep (Alternate) | Patricia Fleming | Email |
10/12/21 Meeting Minutes  Treasurer's Report
9/14/21 Meeting Minutes  Treasurer's Report
5/11/21 Meeting Minutes   Treasurer's Report
3/9/21 Meeting Minutes  Treasurer's Report
11/10/20 Meeting Minutes  Treasurer's Report
10/13/20 Meeting Minutes  Treasurer's Report 
backpack pals